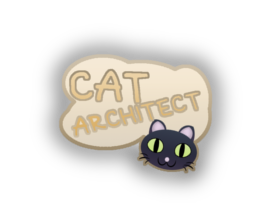 Cat Architect
[ENG]
Help Cat Architect to rebuild his world! Use crane to place blocks on top of each other. Upgrade your crane by chosing special cards. Explore new uprising world with your friend Cat Architect who may have some other interests than only rebuilding...
Each level has its own obstacles like birds, eletricity, camera swinging and many more!
This game was made in a week for ZostanWDomuRobGry GameJam.
TOUCH IS CURRENTLY BROKEN! I WILL TRY TO FIX IT!
Use SPACE and MOUSE to play.
Game was create in Construct 3. All of music, graphics, etc. was made by me, only some of the sounds are taken from freesound.org and a font from google fonts.
[POL]
Pomóż Kotowi Architektowi odbudować jego świat! Użyj dźwigu aby układać na sobie klocki. Ulepsz swój dźwig wybierając specjalne karty. Odkryj nowy, powstawający świat ze swoim przyjacielem Kotem Architektem, którego oprócz odbudowywania może interesować parę innych rzeczy...
Każdy z poziomów ma swoje przeszkody takie jak ptaki, elektryczność, kiwająca się kamera i wiele innych!
Gra powstała przez tydzień na GameJam ZostanWDomuRobGry.
DOTYKOWY EKRAN AKTUALNIE SIĘ POPSUŁ. POSTARAM SIĘ TO NAPRAWIĆ
Użyj SPACJI i MYSZKI żeby grać.
Gra zostałą stworzona za pomocą silnika Construct 3. Cała muzyka, grafika etc. został stworzonę przeze mnie tylko niektóre dźwięki wzięte są ze strony freesound.org oraz czcionka z google fonts.