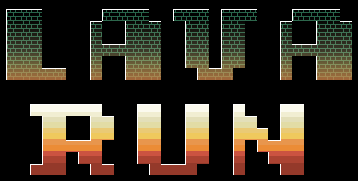 Lava Run
Small infinite jumper game, where you have to jump to avoid flooding lava.
Controls:
W/Space/Up Arrow - Jump
A/Left Arrow - Move Left
D/Right Arrow - Move Right
ESC - Go Back
Game was made with Construct 2 Demo. Have fun and share you highest score!
Comments
Log in with itch.io to leave a comment.
Something glitched, and i started game with 3158 point
Simple game, but suprisingly fun. somehow I always get too greedy trying to kill those birds and end up dying the process. :(

At first glance I thought this might be a little generic, but it's anything but that. Well done man :)
Could you provide a downloadable Windows version ? I'd love to play this when I'm offline.
Easy to learn hard to master and pretty fun to play. Also the design (creatures , lava) reminds me of terraria :)
Thanks, I'm really happy that you enjoy it. And didn't think about Terraria when designing it but now that you mention it...
Very simple game yet very entertaining and good looking. The graphics look very cute even if they are simple. Good job!